Observera att förfrågan INTE är bindande!
Vi kommer kontakta er efter ni skickat förfrågan. 
Vi har offertgaranti!
Om du får en offert från annan leverantör på samma produkt med lägre pris och lika bra villkor i övrigt så ber vi att du hör av dig till oss.
Replacement clamp is a repair clamp for dialysis catheters*.
Replacement clamp makes it possible to replace a broken clamp on the dialysis catheter without removing the luer lock connector.
New ergonomic design.
Manufactured in Sweden.
CE certified.
Step 1:
Remove the old clamp. Slide in the Replacement clamp from the side.
Step 2:
Fix the tube in the notch of the Replacement clamp. The clamp is now ready to use.
*Replacement clamp is for temporary use only. A damaged catheter should always be replaced. Follow the instructions of your catheter supplier carefully.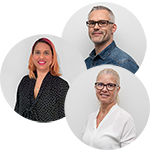 Önskar du personlig rådgivning?