Observera att förfrågan INTE är bindande!
Vi kommer kontakta er efter ni skickat förfrågan. 
Vi har offertgaranti!
Om du får en offert från annan leverantör på samma produkt med lägre pris och lika bra villkor i övrigt så ber vi att du hör av dig till oss.
Introducing BVS® Mobile Bladder Volume Scanners, the first truly mobile bladder scanner that lets you scan anywhere without a computer, cords or software. You can even evaluate the results on your tablet or smartphone and connect to the Electronic Patient Data system.
Product Specifications ENG (PDF)
Quick reference card ENG (PDF)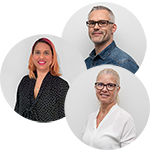 Önskar du personlig rådgivning?
Mediate Medical BVS PRO Benefits:
Noninvasively measures bladder volume and post-void residual (PVR)
Easy to clean
Helps assess urinary retention and postoperative urinary retention (POUR)
Helps evaluate many common urological conditions
◦ Benign prostatic hyperplasia (BPH)
◦ Bladder outlet obstruction (BOO)
◦ Overactive bladder (OAB)
◦ Lower urinary tract symptoms (LUTS)
Helps prevent unnecessary catheterization and unnecessary trauma to patient
Helps reduce rates of catheter-associated urinary tract infection (CAUTI)
Helps caregivers manage and treat incontinence
Improves efficiency of health care professionals by reducing costs and saving staff tim
Precision aiming ability via lightweight, portable, handheld probe
Can upload exam data to electronic health record systems (EHRs and EPDs vis secure transmission following HL7 / DICOM protocols)
Battery-operated, no power connection required for 200 scans
Mer information
| | |
| --- | --- |
| Bladder Volume Range | 0-999 ml |
| Scan time | Less than 4 seconds |
| Scan Image | Real Time |
| Accuracy - Calibration Phantom | ± 10 % |
| Accuracy - Volume 0-150 ml | ± 15 % |
| Accuracy - Volume 150-999 ml | ± 10 % |
| Power | Li-ion rechargeable battery pack 3.7 V. 4400 mAh. 16.28 Wh |
| Fully charged battery | 200 exams |
| Charge time empty battery | Less than 6 hours |
| Water resistance | Rated at IPX1 (indicates drip proof, a higher than ordinary level of protection from drips, leaks, and spills) |
| Display | OLED 1.4, resolution 240×240, Touchscreen |
| Display options | Display on Smartphone or Tablet, OS : Android 4.0 or above, CPU : dual core 1.2 GHz cortex A9 or above, RAM : 1 GB or more ROM : 4 GB or above, Camera / Bluetooth / Wi-Fi / 3 G communication |
| Data transmitting | Bluetooth – compliant with "Bluetooth Special Interest Group" |
| Sleep mode | Default = 5 minutes. Shut down can be defined |
| Printer | External (Bluetooth) |
| Computer connection | USB 2.0 |
| Upgrade firmware | Bluetooth |
| Transducer | Probe | 2,5 MHz (small scan head) 3D sector scan with B-mode scan image Scan angle of 120 ° |
| HL7 connection | Upload scan data to Digital Patient System |
| QR code | Barcode | Camera in unit |
| Audio sound | Available to recognizing different functions |
| Software | Pre-scan function, Real-time bladder images, Automatic bladder wall recognition, No gender input needed, Scan angle indication, Print options, Scan data storage + browser (100 patients), Bluetooth indication, Battery power indication |
| Language | English, Chinese, Czech, Danish, Dutch, Finnish, French, German, Greek, Italian, Hungarian, Japanese, Korean, Norwegian, Portuguese, Spanish, Swedish, Turkish and on request |
| CE and ISO | CE 0123, TÜV Class IIA Comply to IEC 60601-1-2:2007 |
| Water ingress | IPX 1 |